Online Giving
Tithes & Offerings via Online Giving
We invite you to give online or via the free downloadable Cash App for iPhone and Android! Click HERE to download for iPhone! Click HERE to download for Android! Our Cash Tag is $cityofdavidchurch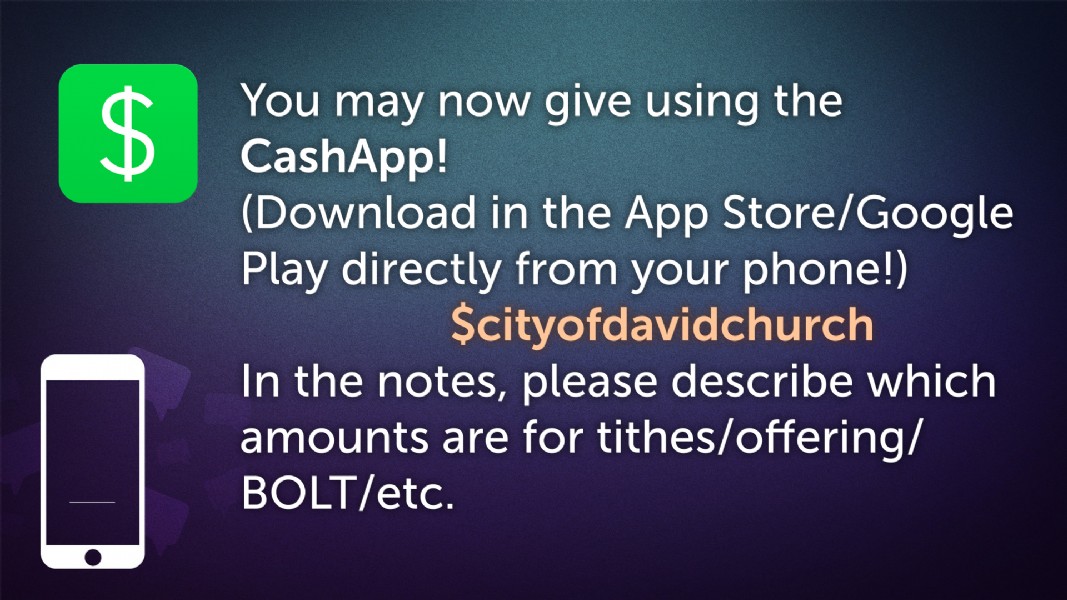 To give via PayPal:
Visit PayPal through the app or through your internet browser

Enter the email address: give@cityofdavidmovement.com

Enter the amount, a note indicating where amounts should be allocated and submit your offering!
Why do we give to the temple of God?
We believe that tithing and giving is a recognition that everything we have comes from God. The practice checks our greed, promotes personal discipline, testifies to our faith, and promotes God's work in the world. Returning the monetary tithe to God helps us remember that He is the owner of everything; even our finances.
Proverbs 3:9-10 NIV
"Honor the Lord with your wealth, with the first fruits of all your crops, then your barns will be filled to overflowing..."
Luke 6:38 NIV
"Give and it will be given to you. A good measure, pressed down, shaken together and running over, will be poured into your lap."